Our team is pleased to be working alongside Nashville-area businesses as they prepare to safely reopen.  WSMV News 4 spoke with Dr. Babcock about Complete Health Partners employee testing and return-to-work consultations.  Our team offers both PCR nasal swab testing for active infections as well as antibody testing for individuals and groups.  For more information, visit our COVID-19 for Businesses page.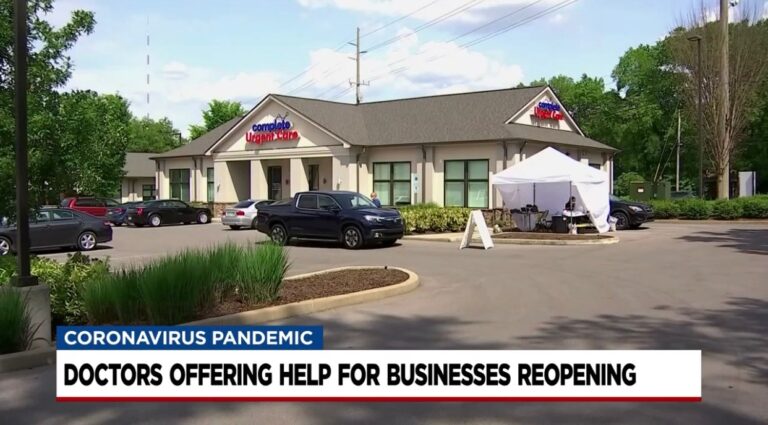 NASHVILLE (WSMV) – As many businesses prepare to open, medical professionals say owners need to have a clear plan to keep employees safe and prevent the Coronavirus from spreading more.
Many businesses are adding markers to remind people to keep six feet apart, offices may see less employees at one time, others are getting all employees tested for the virus. The planning process has some saying its important to have a doctor involved.
"When is it safe to go back to work, do my other co-workers need to be tested," Dr. Ty Babcock with Complete Health Partners said many people getting ready to go back to work are asking these kinds of questions about safety.
The Nashville doctor is one of a handful working with local businesses to mass test employees at his clinic or in the business's offices.
"We can manage the tests on going month to month and we can also even go on site and provide custom consulting service as well," said Dr. Babcock.
He says he's working with businesses like local retailers, construction offices and insurance offices, even musician touring companies to find solutions to get workers back in their desks with proper sanitation and critical measures including special schedules and seating arrangements.
"They dont have somebody that's employed that can just sit around and pour through websites and figure out what's changed from last week," said Dr. Babcock.
He says the goal is to give employers a one stop shop for advice and testin to keep COVID-19 out of the office.
To watch the full story, click here for the WSMV News 4 Story