Summer is in full swing, and with that comes heat, humidity, and hopefully, lots of time outside.  Nashville is full of great parks and hiking trails – from Percy Warner Park in Belle Meade to Bells Bend State Park near Ashland City and Radnor Lake State Park in South Nashville.  Last month we discussed one common nuisance for outdoor explorers, ticks and tick-borne illnesses.  This month we are tackling another common summer issue seen in our Nashville walk in clinics: contact dermatitis from plants.  
What is Contact Dermatitis?
Contact dermatitis is the catch-all name for skin inflammation from an irritant.  With poisonous plants, this usually results in a burning, red skin rash which may appear up to 2-5 days after exposure and can last for a week or more.  A hallmark of contact dermatitis from plants is raised, blistered welts.  
How to Identify Poisonous Plants
The most common plant-based skin irritations we see in Nashville are from poison ivy, poison oak, poison sumac, Virginia creeper and trumpet vine.  While many states only have some of these itchy plants, Tennessee has the great honor of being home to all of them. With some of these, the well-known rule "leaves of three, let them be" applies.  Poison ivy and poison oak have three leaves, however poison sumac, Virginia creeper and trumpet vine have more than three leaves per stem.  Ultimately the reactions to most of these plants are indistinguishable from one another, but it is important to know which plants to look out for. Read on to learn how to identify each of these poisonous plants, what to do if you come into contact with them and when medical attention is needed.
Poison Ivy
The most common of all the poisonous plants in Nashville is poison ivy.  It can be found in almost every heavily wooded area, including suburban yards.  Since I've been thinking about poison ivy for this article, I've noticed it everywhere from the Nashville Zoo to Cheekwood to the Harpeth River State Park paved biking trail in Bellevue.  Poison ivy always has three leaves. Often the middle leaf is the largest and sticks out the furthest. Poison ivy leaves are frequently described as "serrated" like a knife or "mitten-shaped." Be on the lookout for red stems, however not all poison ivy has a red stem. Poison ivy can grow as its own individual plant, as a bush or as a vine. Its color is bright green in the spring and summer, however it can turn red in the fall. The images below show some of the poison ivy I've spotted lately around Nashville.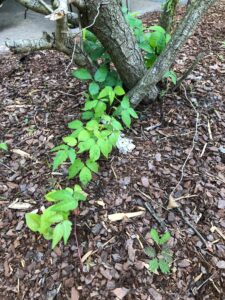 Poison Oak
Poison oak is also common in Nashville, though I haven't spotted it nearly as much as poison ivy. Poison oak has leaves of three like poison ivy, however the leaves are shaped like an oak leaf. If you see what looks like little oak trees growing but don't see a big oak tree around, that's a big sign you have spotted some poison oak.
Poison Sumac
Poison sumac is the least common of the "poison" family plants in Nashville. Poison sumac has many leaves (7-13 per stem), and it loves the water. It most often lives in boggy areas around streams and creeks. It is not vining – it looks more like a small tree or shrub.
Virginia Creeper
Virginia creeper looks a lot like poison ivy, however it has five leaves rather than three. It is extremely common in Nashville, and I even have some that wants to grow on the fence in my backyard. Far fewer people have reactions to Virginia creeper than any of the other plants mentioned in this article, however it is important to be aware of its nature and that some have strong reactions to it. Reaction to Virginia creeper is most common after touching the sap of the vine (such as during the removal of the plant as opposed to just touching the leaf), and reactions are more severe when they contact an open sore or wound.
Trumpet Vine
For all of you old-school Southerners, trumpet vine is also known as "Cow Itch" because when cows would come into contact with it, they would later be seen scratching at fence posts. While certainly the most beautiful of all of the itchy plants, trumpet vine causes a reaction in A LOT of the people who come into contact with it, so I'd advise against putting it in a vase. It usually grows in shady, neglected areas and has red-orange blooms that look like a trumpet. The flowers are much larger than red honeysuckle plants – they are usually about the length of your thumb.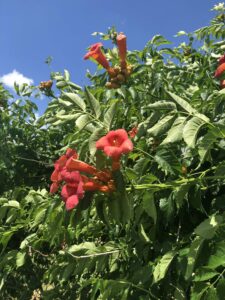 Home Treatment
Not all contact dermatitis requires a trip to the walk in clinic.  Initial treatment for contact dermatitis involves cleaning the area and home treatments.  First, clean the skin as soon as possible using soap and water or, if available, rubbing alcohol or a degreasing soap (like dish soap).  To reduce itching and blistering, apply topical treatments like calamine lotion, cold compresses, and hydrocortisone cream.  Oatmeal baths are also helpful in relieving itching.  Do not apply any lotions/topical treatment to open or blistered skin.  Antihistamines such as Benadryl can also help relieve itching – speak to a medical professional before giving antihistamines to children.  
When to Seek Care from a Medical Professional
If the rash continues to spread after 2-3 days or is especially severe/painful or not responding to topical treatment, a trip to the urgent care or walk in clinic may be necessary.  A medical provider can prescribe oral steroids to help decrease the symptoms and speed up recovery.  If you are experiencing a severe allergic reaction such as difficulty with breathing or significant swelling, a trip to the emergency room is necessary.  
In my experience in the emergency room, I have occasionally seen patients who have had severe reactions from inhaling the smoke from burning leaves containing poisonous plants. These reactions are severe – you should NEVER burn any poisonous plants.
About Our Nashville Walk In Clinics
We have two convenient Nashville walk in clinics to care for you when and where you need care.  Our walk in clinic doors are open every day to our Nashville community.  Our West Nashville Urgent Care is located at 6746 Charlotte Pike in the Nashville West Shopping Center by the old log cabin and Costco.   Our newest walk in clinic location is a Hendersonville Urgent Care Clinic located at 166 E Main Street.  We offer urgent and walk in care 10 hours a day, 7 days a week. With our online check in, you can select a time that works for you and get seen on your schedule. Our Nashville urgent care serves patients all across Nashville – from Bellevue to Bordeaux and from downtown Nashville to Kingston Springs – we are Nashville's partner in complete health. 
6749 Charlotte Pike, Nashville, TN 37209  
629.203.7858  
9am – 7pm, 7 days a week   
166 E Main Street, Hendersonville, TN 37075  
615.991.2855  
9am – 7pm, 7 days a week